Medis Cardiovascular Imaging
Central Data Networks is the authorised Australian distributor for Medis Imaging software.
The Medis story began in 1989 with QCA-CMS (now QAngio XA), the gold standard post-processing software for quantitative coronary analysis. Since then, Medis developments have expanded towards other cardiovascular imaging modalities (MRI, CT, IVUS, OCT) both invasive and noninvasive, for clinical research and routine applications as well as the fusion of some of these applications.
For more than 25 years their installed base of customers expanded to more than 40 countries. Medis Vendor Independent de-facto standards software are used by cardiologists, radiologists, researchers and industry partners who worldwide rely on Medis post-processing software for the quantitative and qualitative evaluation of their cardiovascular images.
QAngio XA
QAngio® XA is the industry-leading post-processing software solution for the analysis of coronary(QCA) and peripheral(QVA) vessels in angiograms, and for the analysis of left(QLV) and right(QRV) ventriculograms.
It offers quantification results that enable interventional cardiologists and radiologists to accurately plan interventions and perform post-interventional assessments. It provides researchers with a solid basis for the assessment of new therapies.
QAngio XA is the combination of the previously well-known QCA-CMS, QVA-CMS and QLV-CMS. QAngio XA has a very flexible modular structure which makes it possible to add any combination of functionality to the basic modules for the analysis of coronary and peripheral vessels and of left and right ventricles.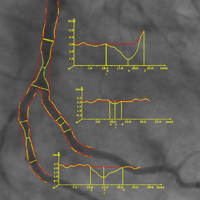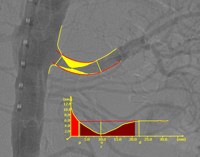 Features of QCA and QVA

 
(coronary and peripheral vessel analysis)
Automatic analysis of straight, ostial and bifurcated segments

Fast, two-click and three-click automatic pathline detection and superb, proven automatic contour detection

Analysis of straight vessel segments treated with (drug eluting) stents or vascular brachytherapy

Sub-segment and edge-segment analyses

Innovative bifurcation analysis models (Y-shape and T-shape)

Analysis of standard digital, subtracted and inverted images

ECG visualisation

Very simple and intuitive contour correction options

Isocentre calibration
Benefits
Saves time with fast analyses and easy to use, intuitive workflows

Offers validated, reproducible results that you can rely on

Accurate lumen and reference measurements in vessel analyses support device and treatment selection
If you have considered enhancing your imaging workflow to give you more time for your patients and make your department more efficient then simply click here to send a new email or call our customer service team on 1300 722 632.
Technology for better lives