The e-Orders app is a means for an authorised user to book a patient on-line from your BYOD from anywhere. This means for certified users, including patients, clinicians, referrers, Radiologist and others, the user is able to book a patient for a procedure.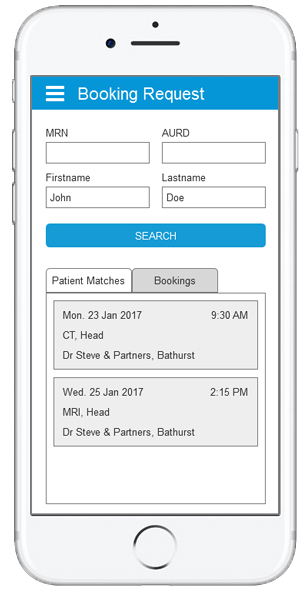 The app caters for users on a variety of mobile devices which extends from a PC/iMAC, to include iPhone, iPAD, Android and other compliant devices. This quick and efficient e-Order APP can be downloaded from the AppStore or can run on all universal PC/BYOD devices in a HTML5 website accessible format from your own website. The CDN e-Order is a quick and user-friendly way to book a patient into the correct department to reliably keep your booking schedule full.
The SMS capability is there to remind your patient of the appointment schedule time for a reliable timetable for business continuity. Includes the capability to photograph referral documents, clinical notes, visual light images for eventual inclusion into the patients' medical record for immediate on-line retrieval. The immediacy of access to images goes towards better reporting outcomes as the image comparison capability on reporting is of significant use. E-Orders can be linked to the CDN RIS aka CRIS and via HL7 can be interfaced to your current RIS. E-Orders provides the full picture for your clinical reception staff to manage the patient schedule appropriately & for Medicare authority purposes.