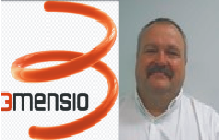 CDN cardiology manager Jon Wye is pleased to announce that 3mensio has released a new software version to improve its structural heart planning package.
The updated version is called V9.1 and is able to assess structures in the heart in order to plan a procedure, while enabling rapid and accurate visualisation.
Jon is an important figure behind the success of CDN and says the new software would enhance the company's reputation through 3mensio.
"This new version adds a host of new applications including right ventricular outflow tract (RVOT) measurements, Tricuspid Valve measurements, 3D printing output and compatibility with Portrait format imaging monitors," he said.
"Along with higher detail segmentation for better depth perception and finer measurement parameters, 3mensio remains the leader in structural heart pre-op planning."
Recently, Jon was able to meet with Dutch-based product management staff from 3mensio who toured major hospitals across NSW and Queensland.
He said CDN was constantly aiming to improve structural heart procedures through the use of 3mensio technology.