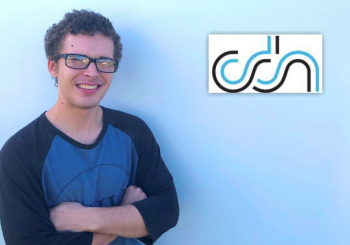 For most, overcoming a problem is often time-consuming and exhausting.
But for George Bozinovski it's viewed as an instant challenge with positive outcomes.
As CDN's CloudVue support officer and noted problem-solver, George is equipped with the necessary skills to overcome any obstacle with impressive results. "I enjoy the problem solving aspects of my role, whether solving an issue for one of CDN's software users or designing workflows to best-suit user needs," he said.
"I am a Law student at the University of Wollongong and as such I am skilled and trained in negotiation, arbitration, mediation, communication and most importantly, problem solving."
And his gift for solving a problem has also surpassed the English language.
"In my studies I am also pursuing language proficiency in Mandarin Chinese," he said.
George says he enjoys his role at CDN, which is to oversee a successful product called Cloudvue.
The product is referred to as a 'global information' system which is 'revolutionising data retention'.
"While I also handle general IT helpdesk duties, my role's focus is on testing and supporting the CloudVue platform. Due to the platform being so versatile, I help to design user-specific workflows to help visualise the optimal CloudVue layouts for different purposes, based on different user needs," he said.
"CloudVue is the most versatile and potentially comprehensive file management and collaboration platform.
"It allows the users to design their own workflows with CDN staff or by themselves and with features such as news, reporting and search, the storage and management of everything from documentation to videos is handled with ease.
"CloudVue still has a lot of potential to grow into the needs of users and thus presents a unique opportunity for customers to have their specific needs met exactly, with the help of CDN's development team."
George says he his big ambitions through his involvement with CDN, while he also continues his work as a partner in an environmental tourism business called TrailScience.