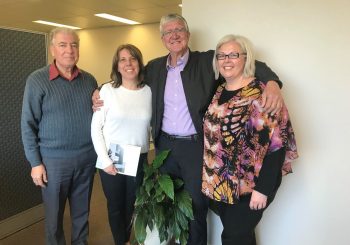 After 18 years of outstanding success and dedication CDN's national sales manager of radiology, Colin Scobie, has ventured into retirement.
A favourite among staff and clients, Colin's professional approach, keen eye for detail and cheerful character has been a tonic for success since joining in 2000.
The likeable 65-year-old spent his final day on the job in late July among peers, sharing both stories and memories before a rousing farewell.
Colin said he had enjoyed his time with the organisation due to its "can do" attitude and "hands on" approach to its operations.
"It's been a privilege to work with CDN and to work alongside a great bunch of people," he said.
"I'm now moving into retirement and another frame of mind filled with new adventures and new beginnings."
Colin has enjoyed a proud career in the medical equipment and technology industry.
He joined CDN in 2000 from medical equipment specialist Picker Australia, where he had spent 21 successful years at the Queensland-based organisation.
Throughout his career Colin has been able to engage with prospective and current clients to ensure all business needs were met in a professional and timely manner.
One of his treasured memories during his time with CDN came in the form of a promotional book, where Colin's professional description read as follows: 'From the land of the long white cloud on the edge of the Pacific is a dedicated warrior, ready to stick up and support your business in the good and bad times. When it counts he delivers solutions that deliver value to our clients.'
"I love that. I think it's terrific,'' he said.
Now moving into retirement, Colin said he was looking forward to new and exciting adventures which will include a passion for cycling and a keen approach towards renovating his Queensland-based home.
Other major adventures include travelling to Broome in his new Mitsubishi Pajero, backed by a newly-purchased caravan.
Colin has also planned a trip to India in the coming months, linking up with fellow Rotarians. "I'm looking forward to what's ahead," he said.