The CRIS Radiology Information System streamlines processes and procedures to deliver a more efficient Radiology department workflow. The system consists of patient tracking and scheduling, result reporting, billing and image tracking capabilities. CRIS compliments HIS (Hospital Information Systems) and is critical to efficient workflow within radiology practices. CRIS has also been proven with integrations to Electronic Medical Record (EMR) solutions.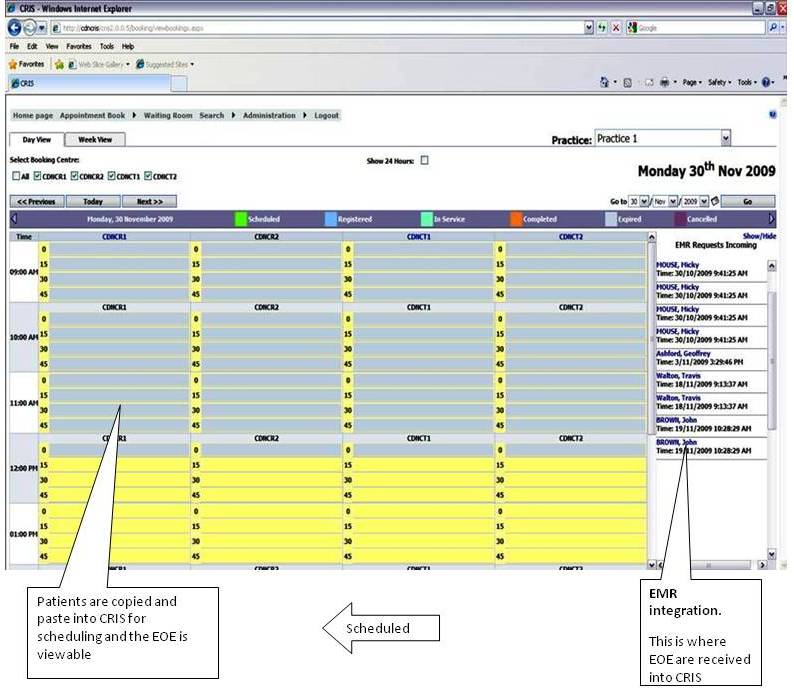 Within the CRIS product we provide the following features:
Web deployable – for remote access by referrers and clinical users

Cross platform deployment – using the Microsoft and Apple Mac latest tool sets

Smart client – integrated and can grow with your business

Intuitive – Easy to learn and use providing the right information at the right place at the right time.

Secure – Role based access based on NIST(National Institute of standards and Technology) Standards.

Intelli-sense automated functionality for post codes, address, booking codes, scan types

Electronic Order Entry (EOE) & HL-7 interface for messaging to third party information systems including Electronic Medical Record. (EMR)

Enterprise wide news broadcast and staff reminders by user, location, time.

DB4 form generation, pre and post exam.

Colour coded 'at-a-glance' features indicating progress and gaps for appointments on a single page with day or week view.

SMS notification to your patients to remind them of their appointments

Export to excel or crystal reports

Visual time in waiting features and seam-less information exchange with PACS.

Full HIC on-line functionality with Medicare and e-Claims billing

Generation of statutory reporting (HCP Data) to Federal and State Organisations and Health Funds

Integration with Accounting packages

User definable 'Help' pages

Minimal user management activities through streamlined and logical functions.

Single action access for complete cost effective Practice Management

Secure e-mail delivery of reports

Integrated Voice Recognition with Merlin PACS

24/7 support for your CRIS RIS and Merlin PACS from a single provider.