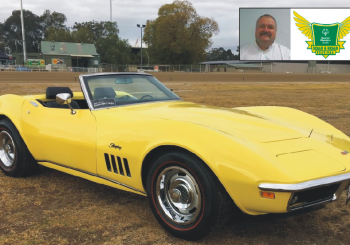 The professional staff from CDN are not only highly-regarded in their job, they also go above and beyond in the community. A fine example is cardiology manager Jon Wye.
Backed by his beloved Chevrolet Corvette Stingray, Jon will participate in the annual Soar and Roar Festival at Sydney Motorsport Park in December.
The motorsport event is geared towards providing people with an intellectual disability an opportunity to experience the thrill of a dream ride in a classic or luxury car.
It also aims to celebrate Special Olympics Australia athletes, their families, support networks and importantly to raise much-needed funds.
As a cardiology manager and providing people with a new lease of life, Jon will suit up throughout the event to give people a thrill of a lifetime in his yellow Chevrolet.
"I'm in the Classic Car division, taking a 'special Olympian' from Penrith to Sydney Motorsport Park on the day," he said.
"I'll then take others for laps around Eastern Creek at a sedate 'classic' pace.
"When not on the move my car will be part of the Show and Shine, which is open to the public.
"I am very fortunate to be able to enjoy my love of cars, and this is a way to share that fortune with others who cannot."
Jon has also received some generous donations from CDN staff, which has contributed towards the success of the event.